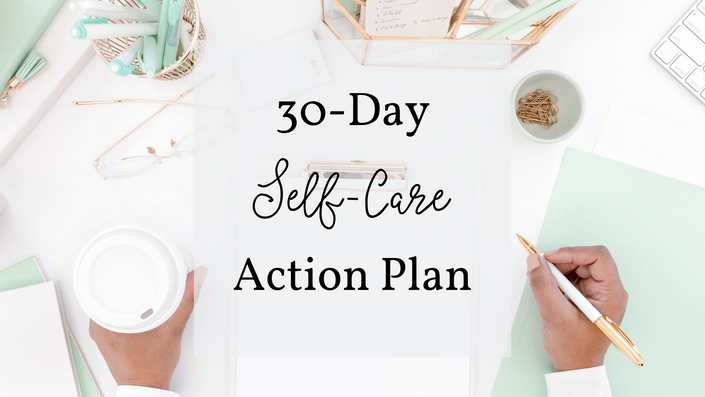 30-Day Self-Care Action Plan
A complete step-by-step strategy to get you to take daily action on your self-care habits
Watch Promo
Hi there! ::extends hand::


I'm Sarah and I'm about to tell you all about the 30-Day Self-Care Action Plan.


I know why you're here and I have something for you that will actually get you to take ACTION on all the things you keep reading and dreaming about.

You came here for a reason, right?
Let's get clear on one thing: More knowledge and information isn't the answer for you right now.
Blog posts, inspiring instagram posts, podcasts that make you walk with your head held a bit higher during your walk - ALL of those things are truly amazing.


But THOSE things haven't gotten you to change. You're still not doing the work.


While more self-care ideas, skills, and lessons are amazing, you also need a PLAN.


You need to actually take ACTION on DOING the self-care you need for yourself daily.
No matter how many podcasts you listen to or how many Instagram posts "really super inspire you" - you still find yourself waking up each morning doing the same things….. And those things aren't consistent self-care.


The days go by, the sun sets, and as you fall asleep you promise yourself that tomorrow will be totally different.
…. You'll exercise
…. You'll journal
…. You'll meditate
…. You'll meal prep
The issue isn't a lack of knowledge, skills, or willpower, the issue is that you don't have a solid game plan.


Every goal we want to accomplish needs one.


Sure, sometimes we get lucky or FEEL inspired and motivated long enough to keep taking action on something we want.


But that type of "strategy" is really hard to maintain every. single. day.
And you might be thinking, "uh, Sarah, doesn't having a strategy for self-care seem a little…. I dunno…. Business-like?"


And my answer is YES, yes it does and you know why it does? Because business strategies get taken seriously, strategies get taken seriously.


Do you think that when people launch a rocket to the moon they just "go with it because it feels good" - NO!


If you REALLY WANT your daily self-care to be important to you, you need a system and a strategy that will help you fail-proof it.
What so many people fail to realize is that strategies don't create more work, they create less work and produce MORE mental energy.


When you don't have to think about what to do next or feel lost or overwhelmed, guess what?! There's a system in place that points you in the right direction.


And when you have THAT then you DO have time for ease and flow and doing what you want when you want more often because your self-care is already taken care of.
::deep exhale::


Look.


I could go on but I already know you're tired of it. Tired of...


…. Hearing the same thoughts in your head again and again
…. Feeling guilty that you aren't making yourself a priority
…. Getting frustrated when the days go by so fast and then thinking…. "Where the crap did the time for me go?!"
So are you ready to hear my solution?


I've mapped out a strategy for you (it's getting exciting, right?!)


It's a set of step-by-step 30-day templates that you'll customize (don't worry I'll be there every step of the way walking you through it with guided videos!)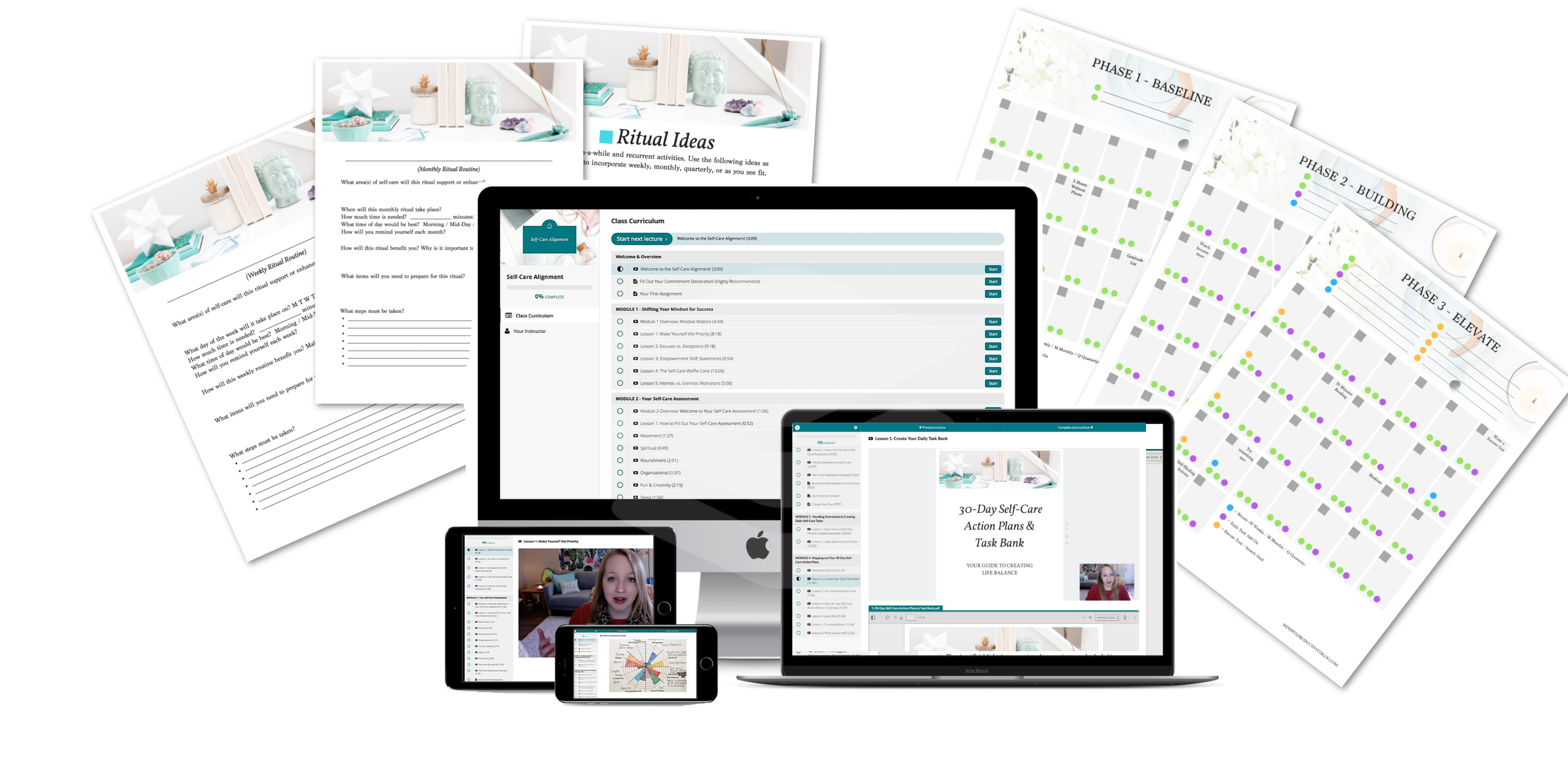 I'll also be sharing ways to remind yourself of your power when you doubt yourself.


You know. When you make excuses about why you're not worth it.


Or when you feel like you don't have enough time for yourself.


I'll be there. With guided videos and exercises.


And with love and compassion and a nice big nudgey nudge I'll have you back in that reality chair in no time. So you actually do the thing you signed up for.


So you'll remember your worth, power, and crazy strong capability!
For the sake of simplicity, here's exactly how this gem of an opportunity breaks itself down in 7 easy steps:


🎉 STEP 1: You'll enroll and you'll get instant access to this beautiful course.


✔️ STEP 2: You'll watch a welcome video that will remind you of all the reasons to take this course and yourself seriously through the process. #peptalk


💃 STEP 3: In 41 minutes (over the span of 5 short videos) I'll walk you through the exact mindset, perspective, and attitude you'll need to make yourself the priority in your own life. If you've ever carved out an hour to watch the Bachelor, you can make time for this. (I'll even send you a photo of a rose if it makes you feel extra specials).


✍️ STEP 4: You'll fill out a self-care assessment and answer carefully crafted questions I've created to help you get clear on what's missing, what you want, and what has to happen first. Have you done one of these before? Great. We'll be doing one again and this time you'll get a sh*t ton out of it and go even deeper. Holy self-awareness, batman!


☁️ STEP 5: At this point in any program, people tend to feel a little overwhelmed, so I'll walk you through a 12-minute video on how to handle overwhelm and some really bomb exercises on how to calm your mind. These are game-changers! I'll also walk you through the best self-care actions for inner peace. It's a powerful lesson that you'll want to reference often!


🎬 STEP 6: It's time to map out your 30-Day Self-Care Action Plan! We'll talk about how to setup and complete your daily task bank, I'll walk you through the 3 phases of self-care, along with Level Zero which is the perfect landing pad to fall back on whenever life gets super tough. You'll download your 30-Day Self-Care Action Planner and corresponding printables and you'll get started. And we'll talk about how to create daily, weekly, and monthly rituals that build on your daily self-care tasks.


🌿 STEP 7: You'll go through your first 30-Day Self-Care Sprint and as time goes by you'll level up into the next self-care phases adding in new tasks, rituals, and guided practices.
This truly is a strategy that will give you the foundation you need to create solid, consistent, practical, and realistic self-care practices a reality in your DAILY life.


If you're ready to dive in, all you have to do is hit the enroll button below.


If you have questions, shoot me an email. I'm happy to answer them! Just make sure to take a peek at the course curriculum preview below. It's exactly what you'll find when you enroll.


Oh! And if you're a first time student of mine and worry that this is too good to be true, no worries! I offer a 7-Day Money Back Guarantee. Watch the first 41 minutes of content in Module 1 & if it's not for you, shoot me an email within 7 days of your purchase date and I'll issue you a full refund. More on my full refund policy and Terms of Use here.
🎉 This course is for you if…..
✔️ You're already thinking "I KNOW exactly what I need to do" ….but you still haven't actually DONE it yet


✔️ You have all the ideas, lists, and blog posts saved on Pinterest about self-care but you struggle to take daily consistent action


✔️ You're overwhelmed with self-care-this and self-care-that and just want something SIMPLE



🚫 This course is NOT for you if….
❌ You're a course hoarder and just want another one to add to your collection



❌

You think purchasing the course and never actually going through it will give you results



❌

You are not ready to take full ownership of what you have to do to treat yourself right
Objections you might have that I'm going to very transparently call out right here, right now.


I can't afford this right now. I get it. But be real with me, is that a "I can't afford it right now because last week I dropped $138 at Target and I need to chill for a moment" OR a legit I cannot afford this right now because I'm barely making ends meet. If you've ever really wanted something in the past and had a way to make it happen, you likely made it happen. (Please note that I know not everyone has an expendable income but I also know sometimes we have excuses about money). It is what it is.
Plus! I once hired a coach for over $600 to help me setup my morning routine. It was worth every penny. You get ALL of this for only $97. It's an unbelievable deal.
I don't have time for anything else right now. Let me challenge you with this: How often do you find yourself mindlessly scrolling on your phone, picking up your phone, or just being on your phone? What we prioritize get attention. If you WANT this, you can make time for it! We break it down into simple steps!


I don't need this but this copy is amazing. OMG RIGHT?! Thank you!
Your Instructor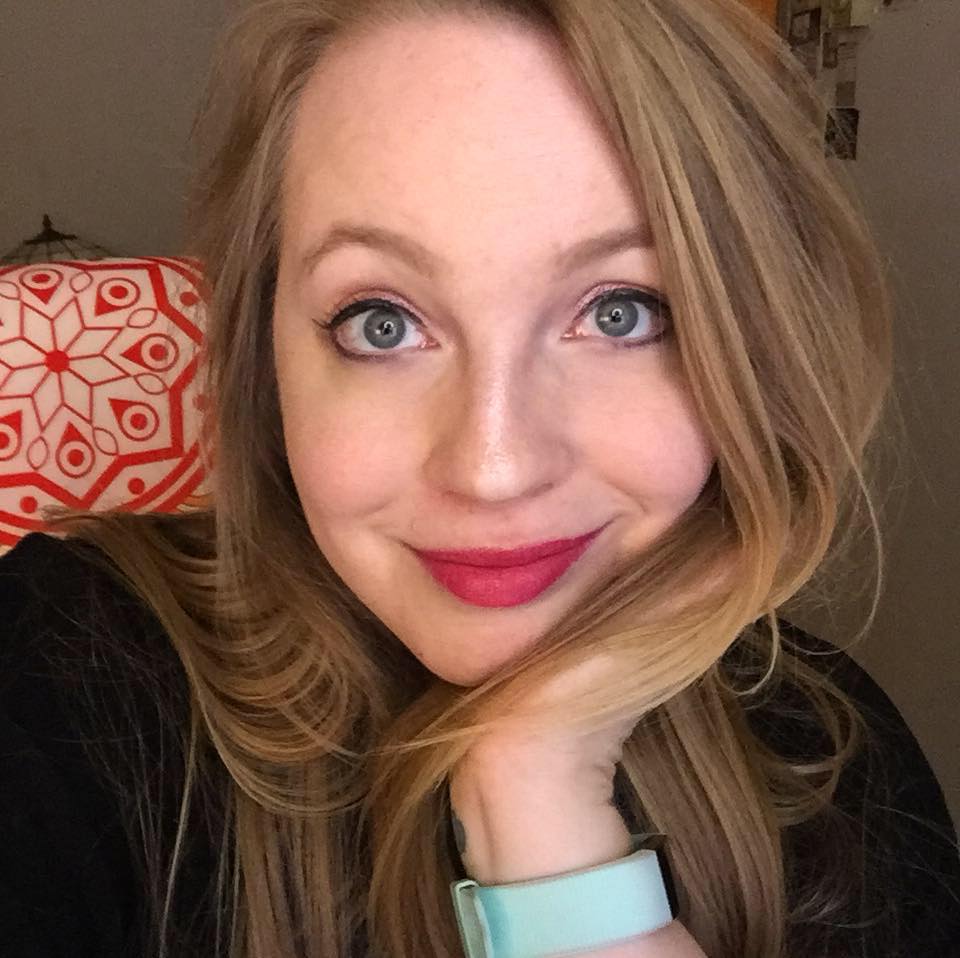 Hey it's me! I'm Sarah Steckler, I'm here to help you combine mindfulness with productivity to feel more at ease and organized in your daily life. As a Certified Health & Wellness Coach, Mindfulness Practitioner, and Productivity Strategist, I'm here as your guide to facilitating change and organizing your life. I've spent the past 10+ years of my life cultivating tools, systems, and strategies to better organize my life, prioritize my goals, and create solid game-plans to make things happen. I'm also the creator of the Mindful Productivity Planner, and Host of the Mindful Productivity Podcast.
Frequently Asked Questions
When does the course start and finish?
This is a completely self-paced online course - you decide when you start and when you finish.
How long do I have access to the course?
After enrolling, you have unlimited access to this course for as long as you like - across any and all devices you own.
What if I am unhappy with the course?
We would never want you to be unhappy! If you are unsatisfied with your purchase, contact us in the first 7 days and we will give you a full refund.
What kind of support will be provided?
After enrolling in the course you'll find videos that guide you through every step of the process. Should you have questions, need ideas, or want extra support, you can always pop into the private Facebook Group!